Corentin Jemine (CorentinJ on GitHub) has a project called Real Time Voice Cloning available on GitHub that uses deep learning to take a voice as input and synthesize speech using its properties – in essence creating a "deep fake" of audio. Setting things up from scratch to get it working on Windows 10 involves using specific versions of software and can be a bit difficult for new users to figure out. I intend this as a reference guide for doing just that – assuming you are starting with a fresh Windows 10 install. This does not provide any instruction for using the cloning software once setup.
What do you need?
You need the following hardware:
An NVIDIA graphics card that supports CUDA 10.0

AMD cards are not supported
You need the following software, and the versions matter – do not install anything yet, we'll get to that:
Time to install!
If any install asks you to reboot, reboot before continuing to the next step.
Python 3.7
Run the install executable and check the "Add Python 3.7 to PATH" option
PyTorch
Following the directions on the "Installing Previous Versions of PyTorch" article, open an elevated Command Prompt (or run PowerShell), and run the following,
pip

install

torch

==

1.2.0

torchvision

==

0.4.0

-

f

https

:

//download.pytorch.org/whl/torch_stable.html
After this is installed you have to remove the bundled cuDNN DLL. You can go directly to this directory using %userprofile%\AppData\Local\Programs\Python\Python37\Lib\site-packages\torch\lib in your File Explorer bar. Find cudnn64_7.dll and either rename it (e.g., cudnn64_7.dll.bak) or delete it.
NVIDIA CUDA 10.0
Run the install executable, read and agree to the license, then choose a Custom (Advanced) install. Assuming you already have NVIDIA drivers installed for your graphics card, you can deselect
Driver components
Other components
If you are not doing any other CUDA work, under CUDA you can at least deselect
Documentation
Visual Studio Integration
Samples
Nsight Compute
There might be others (some of the tools, or even all of Development) – but I cannot guarantee since I didn't leave them out myself.
NVIDIA cuDNN for CUDA 10.0
To set this up, you'll need to extract the ZIP (e.g., cudnn-10.0-windows10-x64-v7.6.5.32.zip) which has three directories in its cuda\ directory (bin, include, and lib). Copy those three directories directly into your CUDA 10.0 install folder. If you used the default path on your C:\ drive, copy them into C:\Program Files\NVIDIA GPU Computing Toolkit\CUDA\v10.0
Visual Studio Community
Visual Studio Community has a ton of additional components that can be installed but only a few of them are necessary to run this code. During the install you will be presented with an option to install based on Workloads or Individual Components.
Selecting Individual Components, you'll want to install:
MSVC C++ build tools

There are many versions of this, but the latest will work
As of writing that is v142 – VS 2019 v14.23

Windows 10 SDK

There are many versions of this, but the latest will work
As of writing that is 10.0.18362.0
Real-Time-Voice-Cloning
Now that all the main prerequisites are installed, we can get the remaining Python packages installed using the requirements.txt file in the downloaded master branch. Using an elevated command prompt (or PowerShell), cd to the location of Real-Time-Voice-Cloning's extracted ZIP file and run
pip

install

-

r

requirements

.

txt
Pretrained models
Extract the zip and move the three directories into your Real-Time-Voice-Cloning directory.
Running Real-Time-Voice-Cloning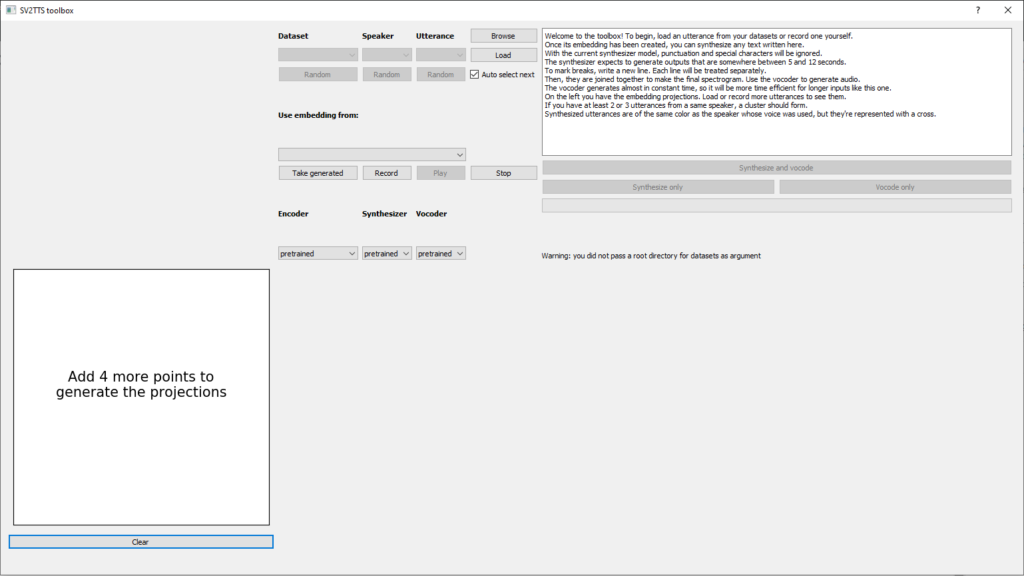 With all of that finished, you should now be able to run the demo code.
To start the GUI toolbox as seen in the video on the Real-Time-Voice-Cloning GitHub page, you can run the following in a command prompt in the master branch directory,
If you've come this far and are experiencing issues, please make sure you have read through each step in detail and followed them exactly. Each step is critical. Check out the existing comments for some extra help with issues that could come up. Unfortunately I do not have time to assist more people with setup problems so I've had to lock discussion. I'm sorry I couldn't get to everyone!
If you're experiencing an issue getting it running, try searching Google for the last line in any error message you're receiving. Often you can find something to point you in the right direction.
Good luck!